Greenconn to Showcase the Innovative Connector Solutions at Electronica China 2023
On July 11, 2023, Electronica China will open at the National Convention and Exhibition Center after a one-year delay caused by the domestic epidemic. This exhibition has made an unprecedented comeback and has attracted many well-known international brands in the electronics industry to participate and display their latest products, technologies, and solutions. These innovations will be applied in various fields, including autonomous driving, intelligent manufacturing, IoT, AR/VR, new energy, 5G communication, smart cities, healthcare, cloud computing, industrial internet, and other innovative applications.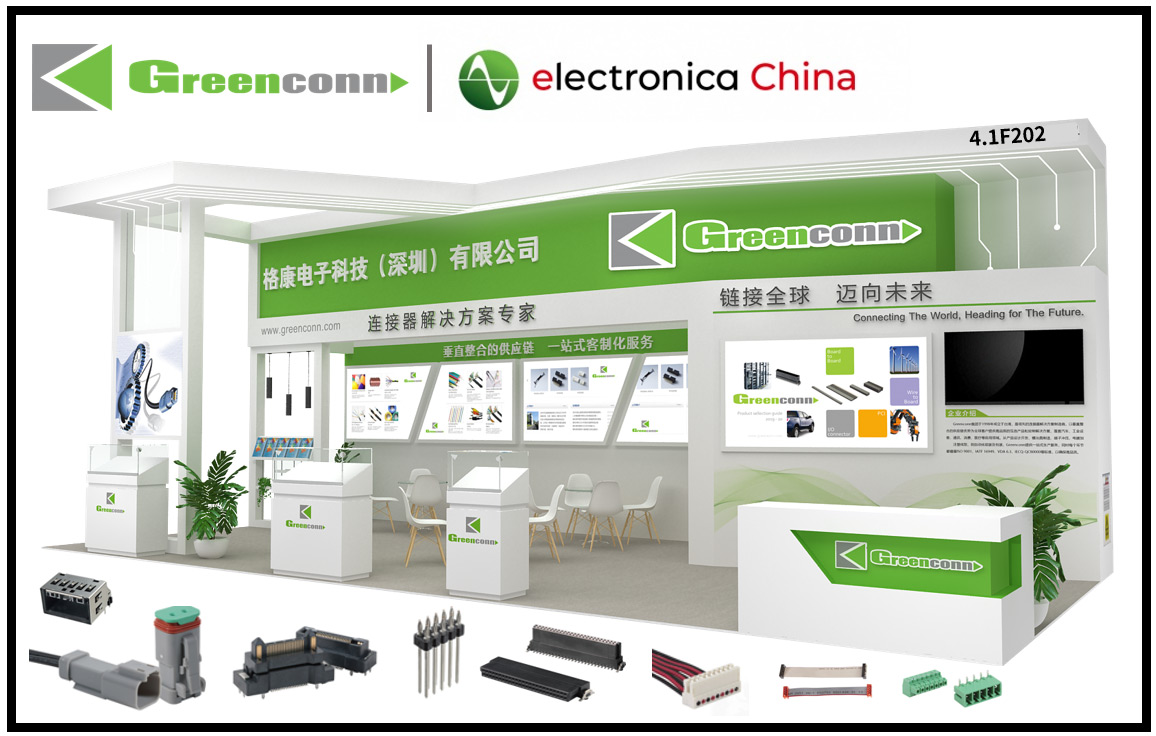 As a leading connector manufacturer, Greenconn will participate in the upcoming Electronica China with its latest connector solutions. At booth# 4.1F202, Greenconn will fully demonstrate to the audience its newly released board-to-board/wire-to-board connector products developed and produced by independent intellectual property rights, as well as a vast selection of reliable interconnection solutions that closely meet market demand. Here are some key products that will be previewed:
High-Speed Interconnection Products
- 1.27 mm pitch high-speed connectors designed for high-speed transmission and industrial applications. With a data transmission rate of up to 4 Gbps and resistance to shock and vibration up to 2000Hz,these connectors are widely used in 5G networks, cloud services, transportation and other fields based on the compact structure, high signal integrity, and current carrying capacity, among other advantages.
Floating Board-to-Board Products
– Full range of floating board-to-board connectors, with variations in combined heights, pitch, and pin number, have excellent misalignment accommodation and tolerance absorption mechanisms, ideal for high-intensity vibration environments, and allow for flexible design with multiple connectors on the same PCB board.
Automotive Connector Solutions
– IATF 16949 certificated, with wide collection of general standard automotive connectors and customized designs for different needs, these interconnect products are featured with high performance, high safety, high temperature, and high shock resistance, widely used in power systems, central entertainment systems, chassis systems, smart cockpits, interior lighting, switches, and other automotive system modules.
For details about more connectors and solutions, welcome to visit us at Greenconn booth, where there will also be experienced technical experts from Greenconn to answer your questions timely.
In addition, Greenconn will also participate in Electronica South China 2023 held at Shenzhen World Exhibition & Convention Center from October 30th to November 1st. We sincerely invite you to come and visit us at our exhibition booth.