Big News! Greenconn to exhibit at Nepcon Southeast Asia for the first time
Greenconn, a leading manufacturer of PCB-mounted connectivity solutions, is pleased to announce its first-time participation in the upcoming Nepcon Exhibitions both in Thailand and Vietnam. This is also one of the important events Greenconn will participate in in the Southeast Asian market after the release of COVID-19 control.
Nepcon Thailand and Nepcon Vietnam, scheduled to take place respectively in Bangkok on June 21st and Hanoi on 6th September, are the premier platforms for the electronics and technology industry in Southeast Asia. The exhibition is also an important window for Greenconn to penetrate into the Southeast Asian market and fully display itself. Meanwhile, in order to better serve local customers and global customers, and quickly respond to their supply needs, it is also reported that Greenconn is building its fourth factory in Vietnam, expected to be completed in Q4 this year.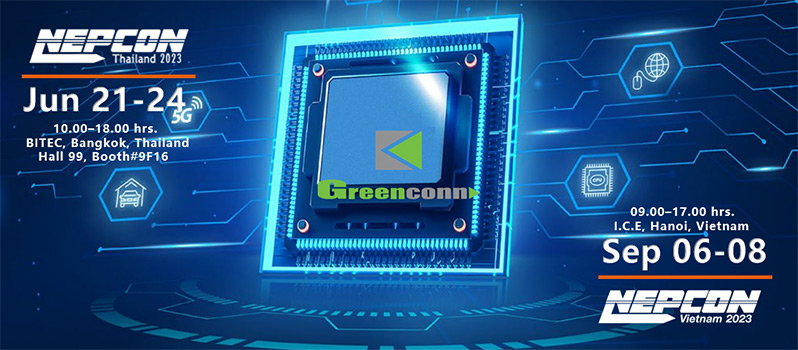 With over 25 years of experience in providing high-quality and reliable connector solutions, Greenconn is poised to showcase its cutting-edge connectivity solutions and latest innovations in the field of electronic components at the exhibition. Visitors can expect to see a wide range of connector products and customized solutions of high-quality price ratio, including automotive connectors, floating connectors, RAST IDC, high-speed connectors, I/O connectors, and other various board-to-board/wire-to-board products, widely used in a multitude of industries, such as automotive, industrial, telecommunications, consumer, medical, and more. Greenconn's team of experts will also be available at the booth to offer technique support and answer any questions customers may have.
At Greenconn, quality is at the forefront of everything we do. From product design and development to mass production and logistics, Greenconn provides a comprehensive one-stop customization service. And we strictly adhere to international standards such as ISO 9001, IATF 16949, and VAD 6.3 and continuously innovate our technologies to improve product performance. The company's commitment to quality and reliability has made it a trusted partner to well-known brands such as Mercedes-Benz, Schneider, Omron, BYD, BMW, and more.
Visit us at the exhibition to learn more about our products and services. The Greenconn team looks forward to meeting you at our booth at Nepcon Thailand and Vietnam for further discussion and collaboration.